History of cheerleading
From universities to the olympics – a history of cheerleading
Although cheerleading is commonly associated with colourful pom-poms and encouragement for competition and support of sport teams before and during games, it is first and foremost a sport discipline. And not an easy one either. After all, it combines gymnastics, acrobatics and dance.

How did it begin?
Cheerleading originated in the USA. In the 1980s at Princeton University, Thomas Peebles together with other students supported a local American football team with cheers. In 1884, he moved to the University of Minnesota, where he quickly popularised the idea of cheering on football players. On 2 November 1898, standing in front of a crowd of sport fans, Johnny Campbell, a medical student, started conducting the cheer on the spur of the moment. He was so effective that the team won and he made history as the first cheerleader. And thus the current sport discipline was born. Subsequent years saw the growth of cheerleading not only at universities, but also in secondary education circles. Cheering groups were equipped with flags, drums, megaphones and other props meant to create an atmosphere of excitement during sporting events.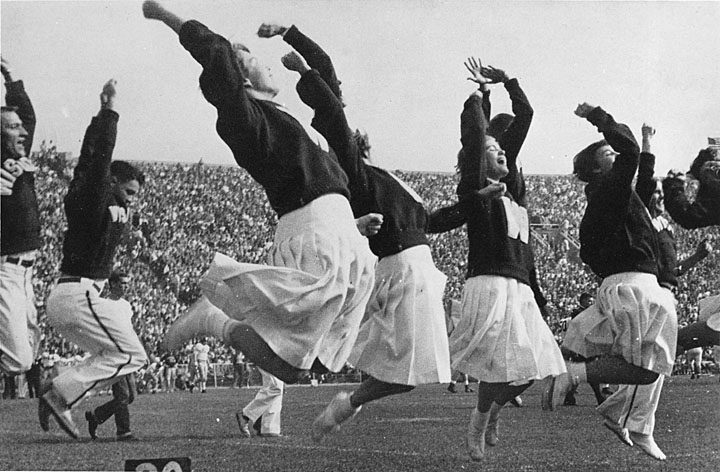 Cheerleaders at the University of Wisconsin–Madison in 1948
source: UW Digital Collections / Wikipedia

Cheerleading not only for men!
Although it might be hard to believe today, at first cheerleading was mainly performed by men. It was not until World War II that women dominated this activity. Since then, nearly 90 per cent of competitors have been girls. The discipline thrived, to the point where the National Cheerleaders Association was established in the USA only a few years after the war. The founder, Laurence "Hurkie" Hurkimer, greatly contributed towards development of new skills and advanced techniques in cheerleading, as well as growth of its popularity.

The professional Baltimore Colts
The Baltimore Colts cheerleading group, formed in 1960, was the first professional team. Five years later, Fred Gasoff invented the modern pom-poms, which remain an attribute of cheerleaders to this day. From the 1970s on, the popularity of cheerleading continued to rise, and the female dancers acted as supporters not only for American football or basketball teams, but also swimming and track-and-field competitors.
Cheerleading takes over the world
In the 1980s and the 1990s, cheerleading started gaining popularity in various other countries, such as Japan, Chile, the United Kingdom, Germany and in Scandinavia. This discipline started to flourish in the USA as well, as evidenced by the massive number of competitions held nearly every weekend in many American towns and cities.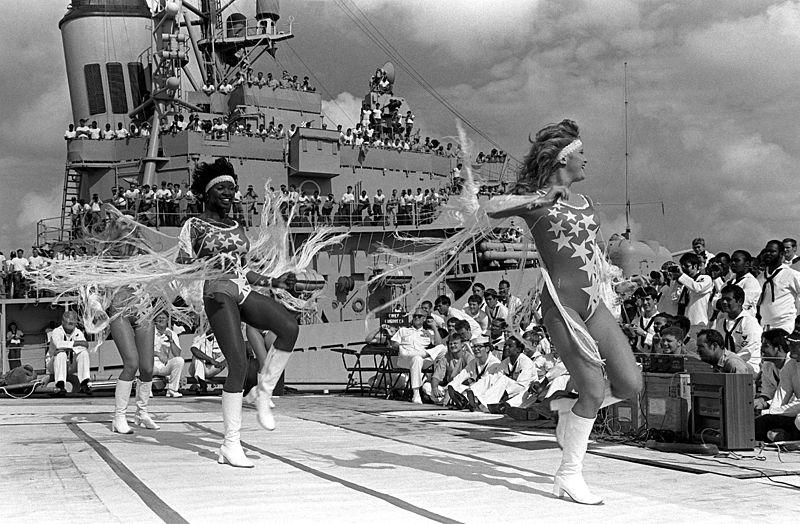 The Dallas Cowboys Cheerleaders performing on the deck of a US nuclear-powered guided missile cruiser in 1983
source: National Archives and Records Administration / Wikipedia
The President was a cheerleader, too!
Cheerleading is so important and popular a sport in the USA that even famous Americans had careers in it. In the 1960s, future US president George Bush played trumpet as the head cheerleader at the Phillips Academy in Massachusetts. And he was not the only president of the United States with such a past. Ronald Reagan supported his fellow students at Eureka College, Dwight Eisenhower focused on cheering after he quit playing American football, and Franklin D. Roosevelt was a Harvard cheerleader in the early 20th century, back when the sport did not enjoy as great popularity as now. Celebrities whose careers started with cheerleading include Meryl Streep, Jennifer Lawrence, Madonna, Cameron Diaz and Eva Longoria.

Cheer in Poland
Since the 1990s, many Polish cheerleading groups and teams, which function first and foremost at schools, have been honing their skills in the discipline as well. In particular last year's decision of the International Olympic Committee to include cheerleading in the Olympic Games as well as its planned Olympic debut at the 2024 games raised hopes of fans and competitors. Establishment of the Polish Cheerleading Sport Association is to serve as a bridge for involvement of coaches, competitors and parents, as well as their ambitions and dreams of ranking high in Europe and globally.